Ryan's World™ toys and activities sell out at launch party
August, 2018
Have you met Ryan? He's the six-year-old mogul behind our latest licensing deal, Ryan's World™.
When Ryan was three, his parents launched a YouTube channel, Ryan Toys Review. The channel combines vlogs and unboxing videos with a dash of childish whimsy. Since 2015, Ryan Toys Review has grown to:
over 15.3 million subscriber
over 1 billion monthly views
19.5 billion lifetime views.
With these statistics in mind, Ryan is the number one creator on YouTube.

On July 28, the ORB™ team saw the scope of Ryan's popularity. At the Walmart launch party in Bentonville, AR, Ryan's World™ toys sold out in an hour. An estimated 5,000 people attended; compelling state troopers to help with crowd control. As the event's key sponsor, ORB™'s products had high visibility and even made TODAY and NBC News.Over the course of the summer, a "Tour with Ryan" roadshow will stop at 75 American Walmarts. While Ryan won't be on the tour, the roadshow will give fans a chance to meet characters from Ryan's channel, like Gus, Combo Panda, and Red Ryan Titan.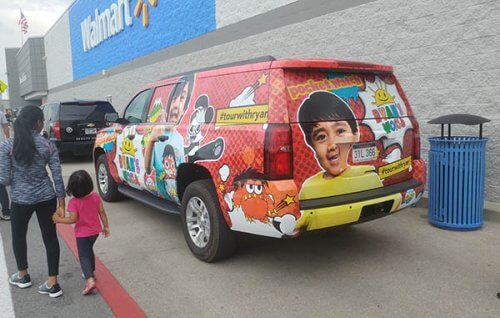 As of August 2018, ORB™ is shipping four Ryan's World™ product lines: Ryan's Squishy assortment, Ryan's Bubble Pals, Ryan's Slimy Blasters, and Ryan's Molecules. Characters from Ryan Toys Review videos —Gus the Gummy Gator, Combo Panda, Peck the Penguin, and T-Rex— inspired much of the current line. Right now, the toys are only available at Walmart, but will expand to other retailers, including ToysRUs Canada, in October. Also in October, keep your eyes peeled for more Ryan's World™ toys including bubble blasters, dough kits, sticker puzzles, and Sticky Mosaics™.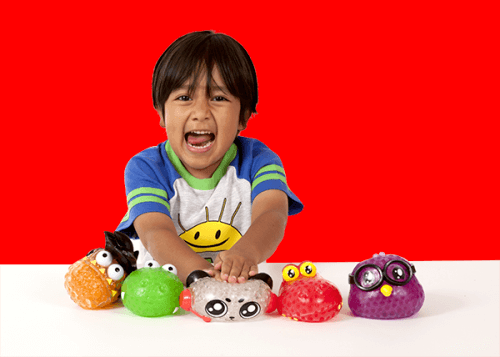 Going forward, ORB™ is keen to work with PocketWatch because of the entertainment agency's expected growth. Viacom recently invested $15 million in PocketWatch during a Series B funding round. According to Variety, PocketWatch and Viacom will collaborate on "long- and short-form content and identify future kid creators and talent for digital and TV".
Quick facts about Ryan:
Ryan's parents keep their last name and location secret, because of Ryan's age.
Ryan has younger twin sisters, Emma and Kate.
Ryan's alter-ego is a crime-fighting superhero called Red Titan.