ORB™ plans a Play Fair party; launches new construction compound
October, 2017
HALIFAX, N.S. – The hottest new compound is hitting shelves just in time for the holidays – and you can get a first look at Play Fair, taking place at the Javits Center in New York, November 4th and 5th.
Even the name of this new Construction Compound is still under wraps. We do know that it will allow children to build detailed creations, comes with multiple colors in each kit, and is being positioned as the next big STEAM toy.
The ORB™ booth at Play Fair will feature a large play area for hands on fun! Be among the very first to touch, build, and create with this hot new product. Large constructions are already in the works to show off just how versatile and impressive this latest compound from ORB™ is.
Can't make it to Play Fair? ORB™ will be revealing the new brand and giving tours of their booth via Facebook Live on Nov. 4th.
Highly anticipated new themes from Soft'n Slo Squishies™
Soft'n Slo Squishies™ is one of the hottest toys for the holiday season. ORB™ launched this line of slow rising collectables earlier this year and they have quickly become the must have toy.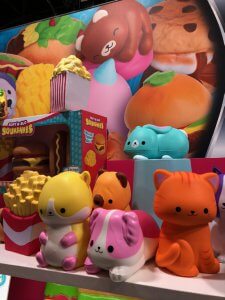 ORB™ is partnering with the Play Fair team for a live on stage unboxing with a surprise YouTube influencer. Three brand new series will be revealed Saturday, November 4th at 11:45 a.m. EST. The event will live stream on both ORB™ and Soft'n Slo Squishies™ social media. Follow the hashtag #JumboUnboxing on Instagram for a first look at each new theme. New themes will be available in stores before the holidays.
Soft'n Slo Squishies™ originally launched with Sweet Shop, featuring ultra soft pancakes and super squishy cupcakes, followed by Gross Desserts, featuring disgustingly detailed cockroach cakes, and moldy donuts. Both series are currently available in store.